About Our Dentist's Office in Winfield, MO
The Dentistry of Winfield office combines the comfort of home with the sophistication of state-of-the-art technology. From our lobby to our treatment rooms, we strive to provide a stress-free experience for every patient.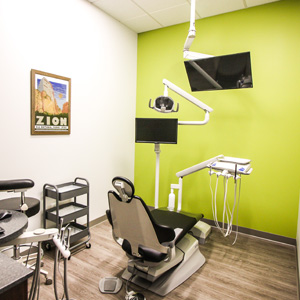 Comfortable Amenities for Adults and Kids
Whether you're at our office for your child's first dental visit or for a dental treatment of your own, we've filled our office with amenities catered to your entertainment and peace of mind.
TVs in Lobby & Treatment Rooms
Your appointment will be over before you know it while you're watching a movie or show on one of our TVs.
WiFi
Catch up on your emails, or scroll through social media using our office-wide WiFi.
Blankets & Pillows
With our soft pillows and blankets, you can sit back and relax during your visit.
Beverages
Enjoy a hot cup of coffee or tea in our homey office.
Warm Scented Towels
After your treatment, freshen up with a warm towel.
Advanced Technology for Modern Care
Digital X-Rays
Our digital X-rays yield high quality images and allow us to view your results quicker than traditional X-rays. They also produce less radiation, making them safe for most patients.
Isolite® Systems
This advanced system makes your dental treatments smoother by comfortably holding your mouth open, protecting your cheeks and tongue, and suctioning out excess saliva.
The process for a dental crown usually takes 2 to 3 appointments, but with CEREC technology, we're able to complete your crown and place it in just one appointment.