Dental Implants in Winfield, MO
At Dentistry of Winfield, we understand the importance of a beautiful smile. If you feel self conscious about your missing teeth, dental implants can restore your smile confidence.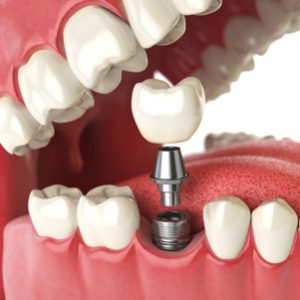 What Are Dental Implants?
Dental implants are small titanium posts that we place into your jawbone where a tooth once was. The post fuses with your jawbone to create a stable, secure foundation for the tooth restoration which is typically a crown, bridge, or denture. At Dentistry of Winfield, we can complete the entire restoration process from placement of the implant to the restoration on top, so you won't have to move from one practice to another.
Types of Dental Implant Restorations
The type of restoration you receive depends mostly on the number of teeth you're missing and the condition of your remaining teeth.
Crown Restorations
Crown restorations are for a single-tooth implant and are designed to blend in with your natural teeth and complete your smile.
Implant-Supported Bridges
If you're missing multiple teeth in a row, or your natural teeth aren't healthy enough to support a bridge on their own, bridge implants may be the best choice for you. The dental bridge consists of crowns on either side of the missing teeth that anchor to multiple implants. This process fills the gap in your smile and has long-lasting results.
Implant-Supported Dentures
Traditional dentures are prone to slipping and falling out, but with snap-on dentures, they connect directly to your implants and are a reliable, sturdy way to restore your smile. Once your implants are placed into the gaps, you simply attach your denture to your implants and you can eat and talk with ease.
Benefits of Dental Implants
Dental implants are a permanent tooth replacement method that have numerous benefits compared to other options such as traditional dentures and fixed bridges.
They look, feel, and function like natural teeth.
They permanently replace your missing teeth.
They can be flossed and brushed normally.
They last a lifetime with proper care.